Preparing your Airbnb for new guests can be an overwhelming task, but with the right checklist and approach, you can simplify the process and guarantee a clean and comfortable stay for your visitors.
Let us guide you through the must-do tasks of an Airbnb cleaning checklist. From regular cleaning checks to making use of smart cleaning tools and even considering professional cleaners, we have got you covered!
Why is a Clean Airbnb Important?
Keeping your Airbnb clean and well-presented holds significant importance for several reasons. Above all, it greatly influences guest satisfaction. A neat and welcoming space leaves a positive impact, making visitors feel at ease and valued.
This, in return, not only results in favorable reviews but also generates word-of-mouth recommendations. Moreover, a well-maintained space reduces the risk of damage and prioritizes safety, providing a secure environment for everyone.
Regular Airbnb Cleaning Checklist
Consistency is key to accomplishing outstanding standards for your Airbnb, which is why we'll go over the basics of cleaning inspections you should perform on a weekly, monthly, and annual basis to keep it pristine.
Weekly Cleaning Checks
Establishing a regular cleaning schedule aids in providing a clean and pleasant environment for your guests at all times. Here's a weekly Airbnb cleaning checklist to keep you on track:
Dust and vacuum: Regularly dust all surfaces, including furniture, shelves, and electronics. Vacuum carpets, rugs, and upholstery to eliminate accumulated dirt or debris.
Sanitize the bathroom: Use effective cleaning agents to scrub the bathtub, shower, and toilet. Wipe off the sink, mirrors, and counters, and remember to restock toiletries and clean towels.
Freshen the bedrooms: Change the bedsheets, pillowcases, and duvet covers, then launder them. Make the bed neatly, dust the furniture, and vacuum the floors.
Clean the kitchen: Clean countertops, sinks, and stovetops. Wipe down appliances, such as the microwave, refrigerator, and dishwasher. Check for expired food items and discard them.
Empty trash bins: Empty all trash bins in the property, including those in bedrooms, bathrooms, and the kitchen. Replace trash bags as needed.
Monthly Cleaning Checks
In addition to your weekly cleaning routine, tackling deeper cleaning tasks every month is essential; this can help prevent the accumulation of filth, grime, and odors. Therefore, include these things on your monthly Airbnb cleaning checklist:
Deep clean the appliances: Perform a thorough cleaning of kitchen appliances, such as the oven, refrigerator, and coffee maker. Remove any built-up grime or food residue.
Wash windows and curtains: Clean windows from both the inside and outside. Launder curtains or blinds to remove dust and stains.
Inspect and clean HVAC filters: Regularly check and replace the HVAC filters to maintain good air quality inside the property.
Check safety devices: Test smoke detectors, carbon monoxide detectors, and fire extinguishers to ensure they are functional and up to date.
Yearly Cleaning Checks
Enhance the long-term maintenance and overall excellence of your rental property by seamlessly integrating these proactive yearly approaches into your routine:
Deep clean the property: Schedule a professional deep cleaning at least once a year. This includes steam cleaning carpets, sanitizing mattresses, and thoroughly cleaning hard-to-reach areas.
Inspect for maintenance: Assess the property's condition, looking for any repairs or maintenance needed. Fix issues immediately to provide your guests with a safe and comfortable environment.
.
Evaluate furnishings: Check the condition of furniture, bedding, and other amenities. Replace or repair anything showing signs of wear and tear to maintain a high-quality experience.
Setting the stage for a successful Airbnb experience starts with preserving an impeccable rental home. With a well-planned cleaning routine, you can guarantee that your space always shines and leaves a lasting impression.
For even more expert advice, make sure to explore the invaluable Clean Room Checklist.
Work Smarter, Not Harder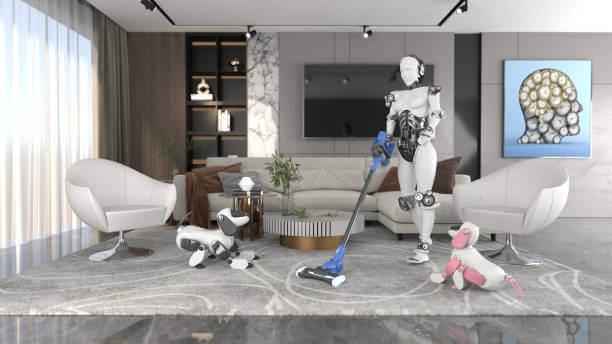 Cleaning your Airbnb can be time-consuming and physically demanding, especially when managing multiple properties. Luckily, intelligent cleaning tools have revolutionized how we clean, making the process more efficient and effortless.
Take a look at these essential smart cleaners that can speed up and improve your vacation rental cleaning routine:
Robotic Vacuum Cleaners
Let these autonomous cleaners do the work for you. They navigate your space, collecting dirt and debris while you focus on other tasks. Schedule them to clean at specific times, and they'll even detect areas that need extra attention.
Steam Cleaners
Take advantage of steam cleaners to tackle tough stains and sanitize various surfaces in your Airbnb. They use high-temperature steam to kill bacteria and remove grime without the need for harsh chemicals.
Incorporate these creative cleaneers into your routine to reduce your workload while achieving outstanding results.
Extra Tips for Your Airbnb Cleaning Checklist
Along with performing routine inspections and making use of high-quality cleaning equipment, Airbnb hosts should also take several safety measures:
Create a Cleaning Schedule
Establish a schedule that covers regular tasks and deep cleaning to ensure nothing is overlooked and your Airbnb stays consistently clean.
Stock Essential Cleaning Supplies
Keep a good supply of multipurpose cleaners, disinfectants, microfiber cloths, and disposable gloves on hand for efficient cleaning without interruptions.
Provide Clear Instructions for Guests
Set clear expectations for guest responsibilities regarding cleanliness. Include guidelines in your house rules, such as asking guests to tidy up before checkout or informing you of any stains or damages promptly.
Inspect After Each Stay
Conduct a thorough inspection of your Airbnb after each guest checkout. Look for any damages or cleanliness issues that must be addressed before the next booking. Promptly address any concerns to maintain high standards.
Solicit Guest Feedback
Encourage guests to provide feedback on the cleanliness of your Airbnb. Their insights can help you identify areas for improvement and ensure you meet and exceed guest expectations.
After putting these suggestions into effect, you will notice an improvement in the overall cleanliness of your Airbnb, much to the satisfaction of both you and your guests.
Hiring a Team of Professional Cleaners for Your Airbnb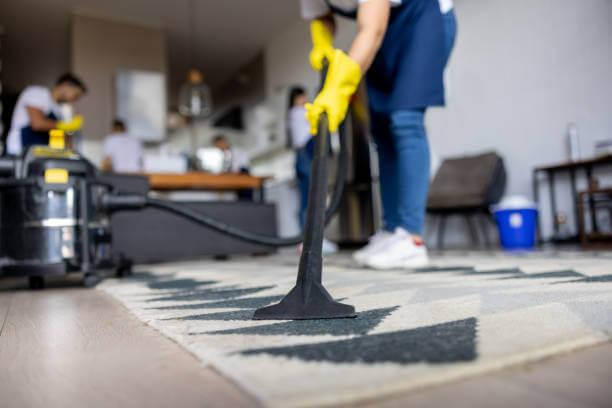 Hygiene is of the utmost importance when it comes to delivering an optimal user experience. While you could clean the house yourself or seek the help of co-hosts, there is a better alternative to consider: hiring a team of professional cleaners.
Let's have a glimpse at the benefits of employing one:
Time Efficiency
As an Airbnb host, your time is valuable. Outsourcing cleaning to professionals allows you to focus on guest communication, marketing, and other property management tasks.
Expertise and Attention to Detail
Professional cleaners are trained and equipped to handle the unique cleaning needs of vacation rentals. They have the knowledge and experience to tackle any cleaning challenge and ensure a thorough job.
Consistent Quality and Reliability
Cleaning services have a team of skilled professionals who follow established cleaning procedures, guaranteeing a consistently high level of cleanliness for your entire home, every time.
Experience Professional Cleaning Services with Sunshine Clean Pros
For outstanding cleaning services tailored to your Airbnb needs, trust Sunshine Clean Pros! Our experienced team has a sharp eye for detail and an unshakable commitment to guaranteeing nothing less than flawless cleanliness.
Don't wait any longer – contact us now to elevate your Airbnb cleaning game to new heights!
Conclusion
Transforming the Airbnb cleaning checklist into a seamless process is now easier than ever. With the correct strategy and resources, you can easily enhance your Airbnb experience and provide a fresh, inviting space for your future clients.
FAQs
How often should an Airbnb unit be cleaned?
The frequency of cleaning depends on the number of bookings and the duration of each guest's stay. Generally, cleaning between each guest's departure and arrival is advisable.
Can guests receive a refund if the Airbnb needs to be cleaned?
Airbnb property is expected to be ready for guests at the agreed-upon check-in time. Should a guest arrive and find the property needing to be cleaned with dirty sheets or lingering trash, they can request a refund.
How to handle cleaning emergencies or unexpected spills?
Keep a well-stocked cleaning kit readily available in your Airbnb rental. Include essentials like stain removers, absorbent towels, and gloves to address any accidents or spills promptly.