Maintaining organized and comfortable surroundings is crucial for running an effective company. A clean workplace not only improves the environment but also encourages productivity and makes a good first impression on both clients and staff.
To support you in establishing and upholding a clean and organized environment, we have carefully developed a thorough commercial cleaning checklist. This detailed guide will lead you through each stage of the process, catering to both experienced and new business owners.
The Importance of a Commercial Cleaning Checklist
It's necessary to emphasize the value of an accurate commercial cleaning checklist, which serves as a complete road map for the cleaning crew to maintain a clean and organized workspace.
A precise cleaning checklist systematically walks you through every office area, ensuring that no area goes unattended and no particulars are missed, all of which contribute to a well-kept and clean atmosphere.
Creating Your Commercial Cleaning Checklist
A cleaner and more organized commercial space starts with developing an accurate cleaning checklist that caters to your unique requirements. Here are the key components to consider:
Understand Your Space
Every commercial space in any setting—whether it be an office, a store, or a restaurant—presents a unique layout and usage patterns; thus, the first step in making the best use of the space is to be aware of these particular qualities and needs.
Divide The Areas
A logical and systematic approach to your cleaning activities is created by dividing your space into distinct cleaning zones, including work areas, common areas, restrooms, and other locations. This can help improve organization and general effectiveness.
Prioritize Wisely
It's essential to recognize that not all tasks demand equal attention; instead, prioritize cleaning areas with higher foot traffic that necessitate more frequent care, such as restrooms and entryways, to ensure optimal maintenance.
Essential Supplies
Prepare a detailed list of all the cleaning tools and products you will require for various tasks, ranging from essential items like brooms and mops to more specific needs, such as disinfectants and trash bags, to ensure readiness.
Task Descriptions
Ensure that task descriptions are precise by utilizing specific action verbs such as 'scrub,' 'sweep,' and 'polish,' which can clearly define the required actions, leaving no uncertainty and promoting better understanding among the team.
Regular Reevaluation
It's important to periodically review and update your commercial cleaning checklist, considering any changes or adjustments in your space and needs, to ensure that it continues to align with your ongoing requirements and maintains efficiency.
By carefully comprehending this, you may not only guarantee a spotless workplace but also design a workspace that exudes care and professionalism to ensure that it remains effective and in line with your continuing requirements.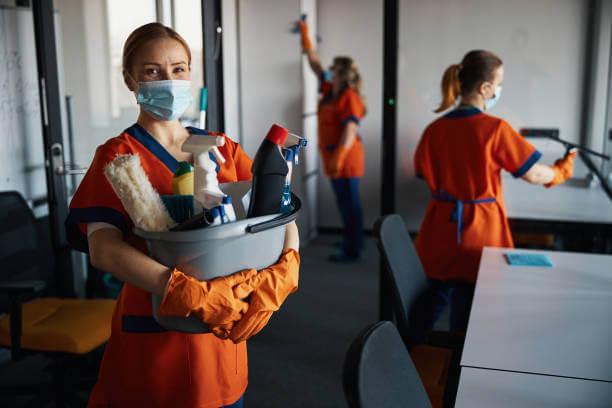 Commercial Cleaning Zones
In keeping various commercial areas clean, from workstations to conference rooms, we have put together straightforward tips to make sure your business space stays neat and attractive.
Offices and Workstations
Maintaining a spotless workspace for employees is essential. Washing down desks, computer screens, and keyboards, as well as removing debris, contributes to the creation of a productive and organized environment that fosters enhanced focus and productivity.
Conference Rooms
Keep a professional appearance that clients and colleagues will appreciate by dusting, vacuuming, and cleaning hard surfaces in conference rooms to make sure they are prepared for meetings.
Restrooms
In order to ensure cleanliness and user convenience, restroom hygiene is crucial in every setting. This requires frequently sanitizing toilets, sinks, mirrors, and knobs and maintaining supplies of essentials like soap and paper towels.
Break Rooms and Kitchens
Clean break rooms matter for a healthy and relaxed workplace, which means that tools, work surfaces, and tables must be cleaned, and shared items like microwaves and coffee makers need to be sterilized often.
Windows and Glass Surfaces
A well-lit area must include windows and glass surfaces; maintaining them clean regularly from the inside and the outside ensures enough natural light comes in and maintains a welcoming and inviting ambiance for everyone.
Ventilation and Air Ducts
Air quality plays an essential role in comfort, so scheduling regular air duct cleaning is necessary to foster a healthy environment and maintain efficient HVAC system performance, benefiting all occupants.
Ceiling and Light Fixtures
Regular cleaning of these areas is necessary to preserve a tidy, polished appearance that positively reflects on your property in the overhead spaces, including ceiling tiles and light fixtures, which can collect dust and cobwebs.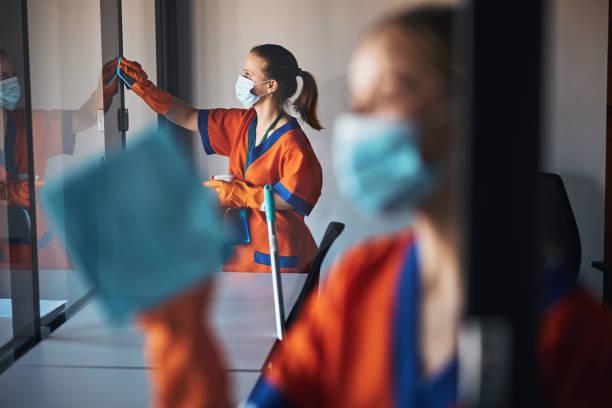 Must-Include Items in Your Commercial Cleaning Checklist
The meticulous cleaning process is designed to leave your office space spotless in every nook and cranny, ensuring that both workers and visitors can thrive in a healthy environment. Here's what our routine includes:
Daily Cleaning Essentials
Morning Sweep and Vacuum - Start the day off well by sweeping and vacuuming busy areas. Setting the tone for a productive day is a spotless floor.
Sanitize High-Touch Surfaces - Clean the shared equipment, light switches, and doorknobs. Don't let the germs get to you.
Tidy Workstations - Encourage workers to clear their desks of clutter. A clear workstation equals a clear mind.
Restroom Check - Check and replenish the toiletries on a regular basis. Everyone feels comfortable when the restroom is tidy and well-stocked.
Weekly Deep Dives
Dust and Wipe Surfaces - Dust soon builds up. Maintain a polished appearance by cleaning surfaces such as desks, shelves, and other surfaces.
Window Wonders - Give your windows some love. Clean windows allow natural light to flood in, boosting everyone's mood.
Floor Care - Weekly floor deep cleaning and mopping gives your workstation a gleam of sophistication.
Kitchen Care - Clean the fridge, wipe the counters, and sterilize the equipment in kitchens. A clean kitchen promotes healthy eating habits.
Monthly Maintenance
Carpet Cleaning - Plan a thorough carpet cleaning once a month. This guarantees that the environment is clean and allergen-free.
Upholstery Refresh - Clean and freshen up the upholstery in public spaces. You should also pay attention to the furniture employees sit in everyday.
Tech TLC - Electronics, such as computers and displays, should be dusted and cleaned. Your equipment will last longer in a clean environment.
Air Vent Check - Make sure that dust and debris are not in the air vents. Clean air vents enhance circulation and air quality.
Quarterly Maintenance
Floor Waxing - Waxing your floors every three months can give them a polished look. Shiny flooring provides an impression that sticks.
Appliance Maintenance - Large equipment like printers and copiers should be checked and maintained. An efficient machine is less likely to produce problems.
Furniture Polish - To make wooden furniture look shiny, polish it. Maintaining your furnishings will give your office a more upscale feel.
Exterior Cleanup - Don't forget about the outside. Power washes the building's exterior and the sidewalks for a tidy and welcoming appearance.
Following this thorough cleaning schedule ensures the safety and well-being of everyone present and fosters a welcoming environment. Remember that guaranteeing a clean environment promotes pride, raises morale, and increases overall productivity.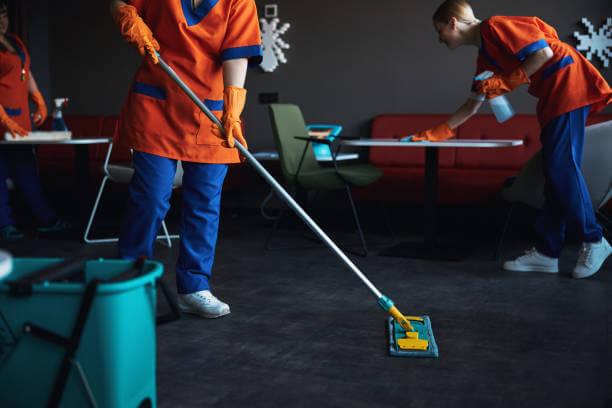 Experience the Top Tier Commercial Cleaning!
At Sunshine Clean Pros, we understand the importance of a clean and inviting environment for your business. Our expert team specializes in top-notch cleaning services of all kinds to the highest standards.
Book a cleaning today, and let us elevate your business with the brilliance of cleanliness!
Conclusion
Once customized to meet your requirements and updated regularly, the commercial cleaning checklist becomes essential to your everyday operations, demonstrating your commitment to upholding excellent practices across your organization.
FAQs
How can you determine which tasks require greater attention?
Give high-traffic areas, restrooms, and jobs essential for health and safety priority. Those are the featured cleaners in your production.
What is the role of technology in a commercial cleaning checklist?
Technology can streamline the process by offering digital checklists, tracking completed tasks, and sending alerts for upcoming cleanings.
Can businesses combine the commercial cleaning checklist with other protocols?
Absolutely, integrating the cleaning checklist with safety protocols and maintenance routines ensures a comprehensive approach to the overall upkeep of the commercial space.
Is it okay to skip quarterly deep cleaning and focus on daily tasks alone?
While daily tasks matter, quarterly deep cleaning ensures thorough, lasting cleanliness that routine daily chores may not achieve.