Welcome to the ultimate guide on how to clean Airbnb homes! If you're running a vacation rental, you know how crucial it is to provide your guests with a neat, welcoming space.
Not only is this common courtesy, but it is essential to ensuring that your guests feel comfortable during their stay, enticing them to leave a positive review and even re-book with you!
In this guide, we will walk you through the essential steps, techniques, and expert tips on how to clean Airbnb homes like a pro.
Why Cleaning Matters for Airbnb Homes
Before we dive into the nitty-gritty of cleaning, let's talk about why it matters so much for Airbnb business.
Guest Satisfaction: A clean, well-kept Airbnb makes a good first impression and gets favorable feedback from happy visitors, especially those with children.
Positive Reviews: Happy guests leave glowing reviews, attracting more bookings and boosting your rental's reputation.
Return Guests: A clean and inviting space encourages guests to return, becoming loyal patrons of your Airbnb.
Word-of-Mouth: Satisfied guests spread the word about your exceptional cleanliness, attracting new visitors.
Superhost Status: Consistent cleaning excellence can lead to Superhost status, gaining even more visibility.
In short, always strive for cleanliness excellence, and you'll be rewarded with satisfied guests and a thriving rental business.
Gathering the Right Tools and Supplies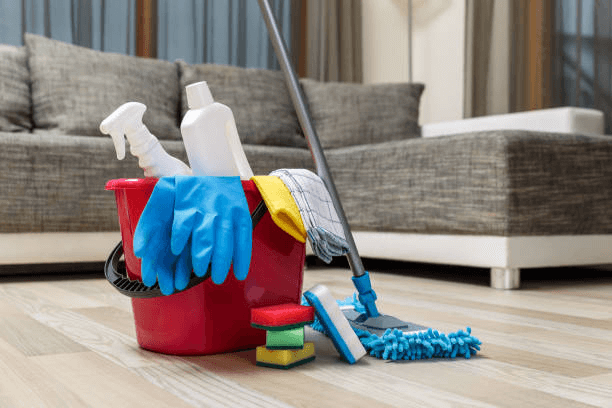 To ensure a thorough and efficient cleaning process for your Airbnb, it's necessary to equip yourself with the right tools and supplies. Below are the must-have items that will effortlessly elevate your cleaning routine to the next level.
Broom and Dustpan: A basic but essential duo for quickly sweeping dirt and debris.
High-quality microfiber cloths: These versatile cloths are perfect for dusting, wiping surfaces, and leaving a streak-free shine.
Reliable vacuum cleaner: Opt for a vacuum cleaner with strong suction power and attachments suitable for various surfaces.
Mop and bucket: Choose a mop suitable for your floor type, whether hardwood, tile, or laminate.
All-purpose cleaner: Invest in a high-quality, non-toxic all-purpose cleaner that effectively tackles dirt and grime.
Glass cleaner: Use a streak-free glass cleaner to ensure crystal-clear windows and mirrors.
Disinfectant wipes: These handy wipes are great for quick disinfection of high-touch areas.
Gloves and apron: Protect yourself during the cleaning process by wearing gloves and an apron.
Trash bags: Always keep ample trash bags for quick and easy waste disposal.
Air fresheners: Keep your Airbnb smelling fresh and inviting with air fresheners or natural alternatives like essential oil diffusers.
Having these supplies readily available will streamline your cleaning process and ensure you're prepared to tackle any mess that comes your way.
Developing a Cleaning Routine That Works
Maintaining cleanliness in your Airbnb is significant, and implementing a well-thought-out plan will simplify the process. Hence, regular tidying is the key. That means having a schedule for cleaning every day, every week, and every month.
Learning how to clean quickly and efficiently is the key to this process. It will take some practice, but it will get easier and quicker over time! Your visitors will thank you for creating a clean and cozy place for them to stay.
Cleaning Checklist: Step-by-Step Guide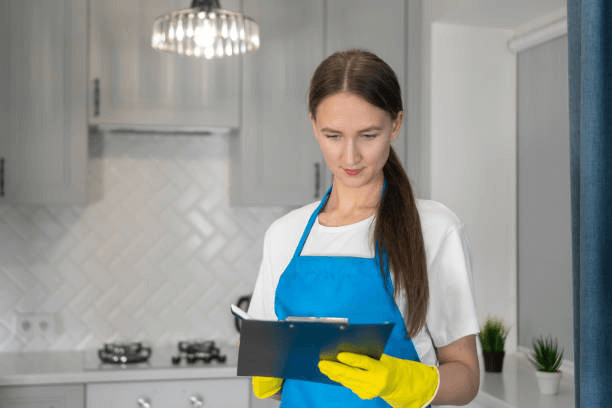 Cleaning an Airbnb home involves various areas, from the kitchen and bathroom to the bedrooms and common areas. Let's explore each section and break down the cleaning process.
Kitchen Cleaning
Clear the countertops and make sure everything is tidy.
Clean the appliances like the fridge and oven, both inside and outside.
Wipe down all surfaces to make them shiny and smooth.
Remember to clean and sanitize the sinks and faucets.
Bathroom Cleaning
Scrub the toilet, sink, and bathtub well.
Take time to clean the shower's tiles too.
Make sure there are fresh towels and toiletries for the guests.
Bedroom Cleaning
Wash all the bedding, like the sheets and pillowcases.
Dust the surfaces and clean the mirrors.
Vacuum the floors to keep them clean.
You can add some lovely decorations like decorative pillows or fresh flowers.
Living Room and Common Areas Cleaning
Dust all the furniture, shelves, and electronics.
Vacuum the upholstered furniture to remove any dirt or crumbs.
If there are any spills or stains, make sure to remove them.
Arrange the room nicely to make it cozy and inviting.
Floor and Carpet Cleaning
Vacuum the carpets and rugs well, even under furniture.
For hard floors, sweep and mop them using the right cleaner.
Check for any marks or stains that need special attention.
Furniture and Upholstery Cleaning
Dust and clean all the furniture surfaces, like tables and chairs.
Watch out for any stains or spills and use appropriate cleaning methods to ensure their removal.
Final Touches and Key Areas
As you're getting close to finishing up your Airbnb cleaning routine, there are a few more things to keep in mind to guarantee your guests have a fantastic stay:
Pay attention to details: Dust blinds, wipe down baseboards, and clean light switches to eliminate any lingering dust or dirt.
Freshen up linens and towels: Provide fresh towels and linens for each guest, neatly arranged in a visible and accessible location.
Clear the clutter: Take away any personal stuff or things that might make guests feel like they're invading your space.
Welcome touches: To make your guests feel special, leave a small gift or write a friendly note to greet them when they arrive.
Going that extra mile to ensure your Airbnb is clean, well-organized, and inviting will leave a lasting impression on your guests, making them feel valued and cared for during their stay. So, let your passion for cleanliness and exceptional hosting shine through.
Sunshine Clean Pros Can Help
If you're too busy or need extra help, you can call a professional cleaning service, like Sunshine Clean Pros, to take care of all your cleaning needs, even for your Airbnb! We will handle all the tricky spots and make everything immaculate!
Book with us today!
Conclusion
Now you have all the tools for creating a pristine Airbnb home. Happy guests await with your step-by-step guide, organized cleaning routine, and long-term cleanliness. Get ready to earn rave reviews and become a top-notch Airbnb host!
FAQs:
Are Airbnb hosts supposed to clean?
Yes! As an Airbnb host, you must ensure that your rental property is clean and well-maintained for each guest's arrival. Cleanliness not only leaves a lasting impression on guests but also contributes to the overall success of your Airbnb venture.
How long does it take to clean an Airbnb house?
For smaller Airbnb rentals, a thorough cleaning may take 2 to 4 hours. On the other hand, more significant properties with multiple bedrooms and bathrooms require 4 to 6 hours or more for a complete cleaning session.
Is it okay to use homemade cleaning stuff in my Airbnb?
Using homemade cleaners can work, but ensuring they're safe and won't harm anything is essential. Before using them everywhere, test them in a small hidden spot first.
How to keep Airbnb clean when guests are staying?
You can ask guests to help keep things clean by giving them clear instructions. Put trash bins in easy-to-reach places and provide cleaning supplies. Kindly ask them to follow some basic cleanliness rules.